Experienced Sacramento Car Accident Lawyers
Injured in a Sacramento Car Crash? The Trusted Auto Accident Lawyers at Piering Law Firm Can Help. Call
(916) 476-2399

!
If you've been in a car accident, it can significantly impact your life in various ways. Your physical injuries and medical bills may make it challenging to work, take care of your family, or partake in activities you enjoy. Our team of car accident lawyers in Sacramento is here to help. We take the time to understand how the accident has affected your quality of life and ensure that you receive compensation that matches your unique situation. We understand the importance of starting an investigation while the evidence is still fresh, so we will immediately begin collecting evidence, photographs, and witness statements to build a strong case for you.
Why Hire Our Sacramento Car Accident Attorneys?
From our office, Attorneys Robert Allen Piering, John Beals, and Sukhtej Atwal represent car accident victims throughout Sacramento County. With over 50 years of combined experience in personal injury law, we are committed to protecting your rights and helping you get the compensation you need. That's what you're getting when you choose our law firm.
To schedule a free consultation with one of our Sacramento car accident lawyers, call (916) 476-2399 or get in touch with us online. Because we handle car accidents on a contingent fee basis, you only pay if we win!
How Can a Sacramento Auto Accident Lawyer Help You?
If you've been involved in a car accident, hiring a qualified Sacramento car accident lawyer can be critical to ensuring you receive the financial compensation you deserve.
Here are five ways a car accident attorney can help you:
Investigating the Accident: Your lawyer will investigate the accident and gather evidence to support your claim, including police reports, witness statements, photos, and medical records. This evidence will be used to build a strong case for your claim.
Determining Liability: Your lawyer will work to determine who is liable for the accident. This may involve negotiating with insurance companies and other parties involved in the accident.
Calculating Damages: Your lawyer will calculate the full extent of your damages, including economic and non-economic damages such as medical expense and lost wages.
Negotiating: Your lawyer will negotiate with the insurance companies to maximize your compensation. This may involve settlement negotiations or taking the case to trial.
Protecting Your Rights: Your lawyer will protect your rights throughout the legal process and ensure you are treated fairly. If you have been injured in a car accident, hiring a qualified car accident lawyer can make a significant difference in the outcome of your case.
Though most injury cases are settled outside of the courtroom, from the beginning, we will build your case as if it were going to trial. This approach enables us to negotiate from a position of strength, which results in more significant results. However, if your rights and interests are best protected at trial, you can count on us for aggressive advocacy in the courtroom. Contact our car accident lawyers in Sacramento today to learn more about how they can help you.
We Are Here to Answer Your Questions Related to Car Accidents
If you have been injured or a loved one was killed in a car accident, you may have a lot of questions. At Piering Law Firm, we are here to answer all of them and provide you with compassionate, skilled legal guidance. Whether your auto accident was caused by another driver's negligence, by a drunk driver, dangerous roads, or a defective auto part, you can count on us.
What Damages Can a Car Accident Victim Recover?
"Damages" refers to the amount of money the victim receives to pay compensation for expenses directly relating to the accident. Following a car accident, victims who sustain injuries may be eligible to receive compensation for the following damages:
Economic: This relates to any finances the victim has lost or will lose due to the car accident.
Non-Economic: This relates to suffering, such as physical and emotional pain.
In some instances, there is another form of financial compensation known as punitive damages. These are rarely awarded, as they are used as a form of punishment for the at-fault party for excessive recklessness. For example, if you were injured in an auto accident and the other party was going 30+ MPH over the speed limit, you may be eligible to receive punitive damages.
Economic Damages After a Car Accident
As earlier stated, these types of damages relate directly to the expenses related to the accident.
Economic damages following a car accident can include:
Medical bills
Medical rehabilitation & therapy
Medical equipment
Lost wages & loss of future earnings
Because injuries often render the victim unable to work, it's not uncommon for medical bill expenses to pile up. In a world where medical bills remain one of the most common reasons for bankruptcy, you need to work with an injury attorney to help you seek full compensation.
Non-Economic Damages After a Car Accident
These types of damages are those that spring up after an accident. These are damages that directly affect the victim's quality of life. These are damages that may be more than physical.
Some examples of non-economic damages after a car accident include:
Depression
Anxiety
Permanent disfigurement
Permanent disability
These types of damages consider how the victim's life will or has changed following the accident. Think of it as an attempt to recompense the victim for their diminished quality of life.
Suggested Reading
Common Car Accident Injuries
In America, there are over 6 million car accidents each year, resulting in thousands of people being seriously injured on a daily basis. When lawyers discuss seeking compensation for their clients' injuries, they typically mean injuries that are severe and have the potential to change the course of one's life.
The following are a few common car accident injuries attorneys see almost every day:
Head & Neck Injuries
When most people think of auto injuries, they often imagine whiplash. This is because neck injuries can occur in almost any accident, regardless of speed. If a driver's neck is jerked back and forth, they may be at risk of whiplash. Additionally, hitting one's head on the airbag or the headrest of their seat can lead to a concussion. These injuries can vary in severity, but they may have long-lasting consequences and increase the risk of a future head or brain injury.
Broken Bones
Fractures and broken bones are common after a car accident. These injuries can vary from minor hairline fractures to more severe compound fractures. Impact with an airbag can cause serious skull fractures, while drivers who keep their hands at "10 and 2" are more likely to experience broken arms. Legs, particularly knees, can also sustain damage during an accident. When bent knees hit the dashboard during a crash, it can cause damage to the shinbone and ligaments.
Internal Damage
Internal injuries may not be visible to the naked eye. Even if someone appears fine on the scene, they may experience abdominal pain in the days or weeks following. Due to the difficulty in detecting internal injuries, it is important for anyone involved in a car accident to seek medical attention promptly. If victims do not see a doctor within three days, their insurance company may dispute the severity of their injuries, even if symptoms did not appear until later.
Steps to Take After a Sacramento Car Accident
After a collision, your actions can greatly affect your health, safety, and ability to receive compensation through insurance or a personal injury lawsuit. It's crucial to follow the proper steps to protect your rights and damages, whether the accident caused minor damage or severe injuries. If you've been involved in a car accident in Sacramento, it's important to take note of the following steps.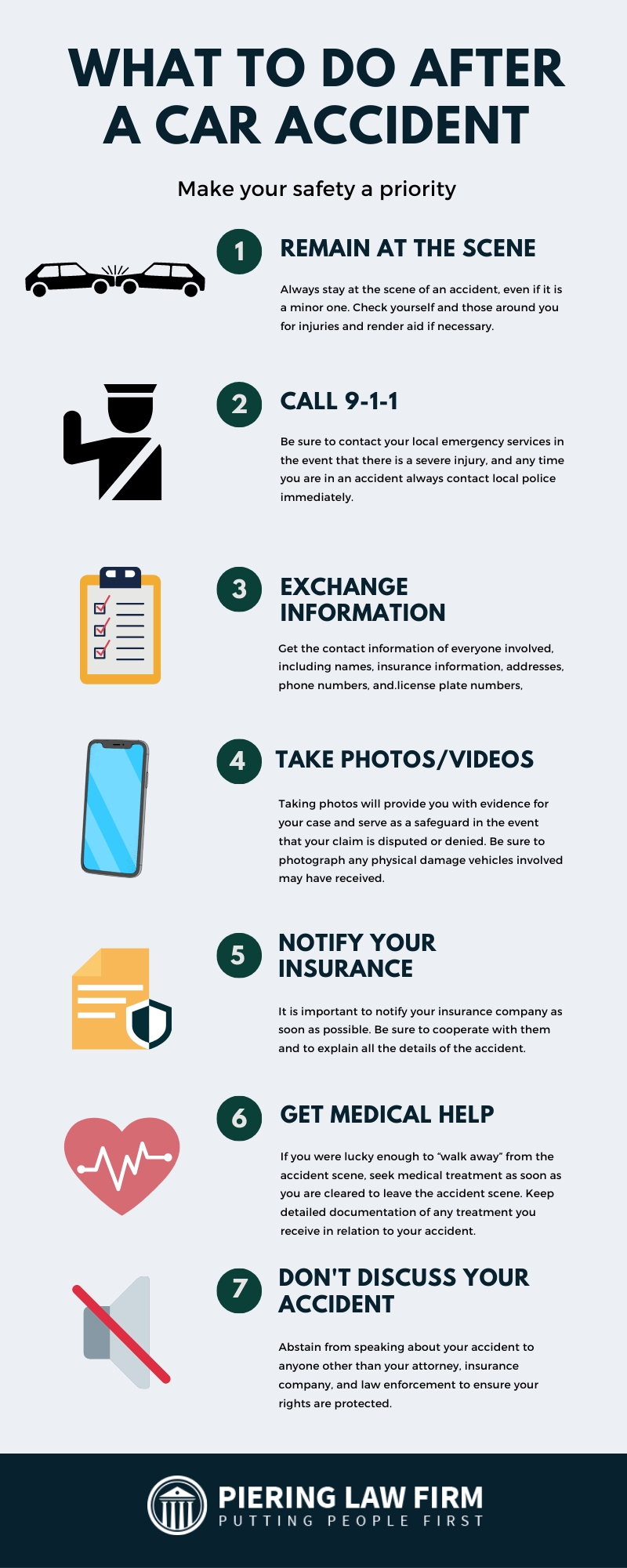 1. Remain at the Scene of the Accident
If you are involved in an accident, the initial step you should take is to stay at the accident location, regardless of how minor the incident may seem. It is imperative to remain at the scene until all the details are sorted out. During this time, it is essential to examine yourself and others involved for any injuries.
2. Contact Local Emergency Services & Police
If you are in an accident, make sure to contact the local emergency services. It's important to also notify the local police immediately. This has several benefits, such as getting an official written police report that can be used as evidence for your personal injury claim. In addition, they can assist you if your vehicle is inoperable and gather contact information from the other party. When speaking to the officer(s), provide them with all the information you can remember and avoid making speculative statements. It's crucial not to admit fault.
3. Exchange Information
In case the police are unable to respond, it's important to gather the contact information of the other parties involved. This information will be included in their reporting if the police arrive at the scene. Remember to collect Insurance information, name, address, phone number, license plate number, and Driver's License number. Not only should you receive the information about the other party, but you should also be sure to speak with any witnesses. Get a written report of the accident from their point of view and their contact information.
4. Take Pictures
It is recommended to take photos as evidence in case of a dispute or denial of your claim. Make sure to capture any physical damage sustained by the vehicles involved in the accident. Also, take pictures of the accident scene, including skid marks and property damages. This will serve as a safeguard for your case.
5. Notify Your Insurer
Inform your insurance company as soon as possible. Work with them and provide all the relevant details. Make sure you present the facts clearly and truthfully. If the insurance company discovers you've made up details to benefit your case, they may reject your claim. Always consult with a qualified attorney before accepting any settlement amount to ensure you receive fair compensation.
6. Seek Medical Help & Document Your Treatment
If you were lucky enough to "walk away" from the accident scene, seek medical treatment as soon as you are cleared to leave the accident scene. Keep detailed documentation of any treatment you receive in relation to your accident, including doctor visits, physical therapy sessions, and medication costs. Unless and until you are completely healed, make sure your medical care continues consistently. Extended gaps of time between appointments can provide the defense an argument that the later care was not the result of the accident.
Keeping track of the expenses related to your accident will give you the best chance at seeking the maximum compensation for your claim. Make sure you are thorough and detailed in your descriptions to medical professionals of both the physical and mental harm the accident or injury has caused you.
7. Take Caution Discussing Your Accident
Abstain from speaking about your accident to anyone other than your attorney, insurance company, and law enforcement to ensure your rights are protected. Avoid providing written or recorded statements to insurance companies or adjusters, in person or on the telephone. Direct insurance companies to speak with your attorney. Avoid signing anything without your lawyer's approval.
Sacramento Car Accident FAQ
Q:

Do I really need a lawyer after a car accident?

A: In many cases, yes. While there is no law requiring you to hire an attorney after a car accident, several studies have shown that your chances of securing fair compensation are much higher if you retain legal representation. Smaller claims that involve little more than cosmetic damage or minor scrapes and bruises typically don't require a lawyer to be resolved. On the other hand, if your injuries have caused you to miss work, incur substantial medical expenses, or if there is a dispute over who is at fault for the collision, it is in your best interests to get a lawyer involved in your case.

Q:

How long do I have to file a car accident lawsuit?

A: The statute of limitations that governs car accident lawsuits in California is typically two years from the date of the collision. This time limit also applies to several other personal injury cases filed in the state's court system. Under California Code of Civil Procedure section 335.1, you typically have two years from the date of your collision to file a lawsuit against the at-fault driver. If you do not file a claim within this window, you will essentially lose your right to sue and will be unable to recover compensation for your injuries. If you are unsure how the statute of limitations applies to your case, it is important you contact our attorneys to discuss your options.

Q:

Do I have to go to court for a car accident?

A: Possibly. Many car accident claims end up being resolved in the form of an out-of-court settlement negotiated between the involved parties without a personal injury lawsuit having to be filed. It is only if the settlement process fails that your case may escalate to a lawsuit and end up going to trial, which will require you to appear in court. This may happen if the other driver's insurance carrier denies your claim, if there is a dispute over who was at fault for the collision, or if the insurance company offers you a settlement that is far lower than what you deserve.

Q:

How long will my car accident case take?

A: There is no definitive way to predict how long it will take to resolve your car accident case. Uncontested claims can sometimes take about 6 months for a claimant to receive compensation, while cases involving litigation can take anywhere from 12 to 36 months to come to an end. Generally speaking, the biggest factors that will dictate the length of your case are the nature and severity of your injuries, the cooperation of the involved insurance companies, and whether or not your case goes to trial.

Q:

I'm partially at fault for my accident. Do I still have a case?

A: Most likely, yes. California follows a "pure comparative fault" rule which allows car accident victims to recover damages even if they are found to share some of the blame for the collision, though their eligible compensation will be reduced according to their level of fault. For example, say you were injured in a crash and suffered $10,000 worth of damages. At trial, the jury finds you to be 20% at fault for the crash because you were speeding at the time. In this scenario, under pure comparative fault rules, you would be eligible to recover a maximum of $8,000 (or $10,000 less 20%).

Q:

What should I say to an insurance adjuster after a car accident?

A: In most serious car accident cases, the insurance company of the at-fault driver will send out an appraiser, otherwise known as an insurance adjuster, to determine the value of all damages. While they may be friendly and appear to have good intentions, it is critical that you remember their job is to obtain information from crash victims when they are most vulnerable in order to minimize the insurance company's financial liability. If an insurance adjuster calls, it is recommended you do not speak with them and instead direct them to speak to your attorney. Our lawyers understand the insurance company's tactics and can handle all communication on your behalf.

Q:

How much does it cost to hire a Sacramento car accident lawyer?

A: It does not cost you anything upfront to hire a Sacramento car accident attorney from our firm. Piering Law Firm handles car accident cases on a contingency fee basis, meaning we will only be paid if we are successful in handling your case. Instead of paying us a traditional retainer, our attorneys will receive a portion of your final settlement amount or jury award as payment. If we are not successful in handling your case, you will not owe us a dime. This ensures our interests are aligned with yours, allowing you to focus on your physical recovery without undue stress.

Q:

How much is my car accident case worth?

A: Every case is different, therefore it is impossible to predict the value of your case. With that being said, auto accident claims that deal with catastrophic or life-changing injuries such as traumatic brain injuries, spinal cord injuries, or broken bones tend to yield higher verdicts and settlements than those involving comparatively minor injuries like whiplash. Ultimately, the value of your case will be dependent on factors such as the level of medical treatment you require, the long-term impact of your injuries, the amount of available insurance coverage, the strength of evidence proving the other party's liability, and the negotiation skills of your attorney.

Q:

Is there a cap on auto accident damages in California?

A: No. California has no statutory maximum damage cap for personal injury lawsuits related to car accidents, meaning there is no limit to amount of economic and non-economic damages you can recover.
Trust Your Sacramento Car Accident Claim to Our Law Firm
Are you uncertain about your injury claim? Piering Law Firm has a team of experienced car accident attorneys in Sacramento who can assist you in building a solid case to ensure that you receive the compensation you deserve. Don't suffer the consequences of someone else's carelessness. Let us demonstrate how we can assist you.
Call (916) 476-2399 to schedule your free case evaluation with our Sacramento car crash lawyers.
Settlements & Verdicts
Piering Law Firm Has Achieved Notable Results in a Wide Range of Cases
$5,000,000 Wrongful Death

A wrongful death judgment secured for a child who lost his mother as a result of domestic violence.

$4,893,830 Wrongful Death

Complex wrongful death motorcycle accident involving product liability claims against both helmet and motorcycle luggage manufacturers.

$3,609,600 Knee Amputation

Motorcycle vs. automobile collision resulting in below knee amputation. Client was riding motorcycle and defendant pulled out in front of him, resulting in a severe injury to client's leg, which ultimately led to the amputation of his leg, just below the knee.

$2,500,000 Serious Injuires

Case involving serious injuries to a motorcycle rider who was involved in an accident with a shuttle bus on the freeway in San Francisco.

$2,000,000 Wrongful Death

A settlement in a wrongful death action as a result of a crash that took the life of a motorcyclist.

$2,000,000 Against Bar/Security Company

34-year-old software sales associate out with friends drinking at a bar in San Francisco. After a few hours, he leaves the bar to go home and gets in an argument outside of the club with a security guard.

$2,000,000 Trucking Accident

Recovery for the victim of a rear-end traffic collision with a big rig that resulted in a neck injury.

$1,700,000 Trucking Accident

Verdict received after trial for the victim of a rear-end traffic collision involving a commercial trucking company.

$1,300,000 Head-On Collision

A policy limit settlement involving a head-on collision on a notoriously dangerous stretch of highway between State Highway 99 in Sacramento and Marysville, commonly known as "blood alley".

$1,250,000 Pedestrian Wrongful Death

The defendant's primary limits of $250,000 were tendered in response to a conditional limit demand that required disclosure of all other coverages. The defendant had an excess policy of $1,000,000.00 which was tendered along with the primary limits.
"

I was referred to John due to a car accident. I couldn't of asked for a better lawyer to represent me. He was very involved from beginning to end making sure I understood the process and that I got the medical treatment I needed. He is definit"

"I was recommended to the Piering Law Firm by a dear friend. I am thoroughly impressed with their high level of expertise, professionalism and consistency. They relieved me of a lot of stress by taking on my case. I am very much pleased with our results and"

"

If anyone has been injured from an accident and needs help, Piering Law Firm is who you need to reach out to. Not only are they helpful, they will educate you about your situation and help you get the best treatment you need for your road to r"

"

Rob Piering and his team built a strong case for me, they followed up and supported the case and myself all throughout. Rob and his team are knowledgeable, talented, honest and extremely experienced. They were available on a daily basis and re"

"

Rob Piering was my lawyer in an accident lawsuit. I couldn't have asked for better representation. Rob and his staff at Piering Law Firm are super knowledgeable and are amazing at what they do. He is quick to respond and very personable. He wa"

"

I was recommended to John Beals by a friend. John educated me about the automotive claims process, but it was his advocacy for me that really stands out. He truly cared for me through encouragement to have my health professionals really look f"